The S.A.E. Smart Adult Education consortium will celebrate a virtual event to officially close the 24 months project. This Virtual event, organized by Italian organization Aretés, will take place the 27th of November and will gather virtually educators and experts in Social Inclusion in Europe such as Anna Grimaldi, Head of Research at INAAP or Franco Cima, EPALE -Electronic Platform for Adult Learning in Europe Ambassador. will showcase all the digital tools provided by the new Smart Adult Education web APP, as well as best practices in the field of New techniques and research in Non Formal Education with adults in vulnerability situation across Europe.       
The S.A.E. consortium, led by Aretés in Italy, is a project co-financed by the Erasmus + program of the European Union, in collaboration with educational organizations from Italy, Spain, Greece and Romania. The online learning platform www.smartadulteducation.eu was officially launched last October after two years of collaborative work, a digital tool to support teachers and educators in their virtual training at this time when COVID-19 has made necessary, more than ever, the help for the training and evaluation of online skills with adults with fewer technological skills. 
Speakers of the Virtual Event:
FERNANDO SARRACINO

Associate Professor of Didactics and Special Pedagogy – UNISOB, Napoli.

ANNA GRIMALDI

 Director and Head Inclusion Structure INAAP Institute (L'Istituto Nazionale per l'Analisi delle Politiche Pubbliche è un Ente Pubblico di Ricerca) 

FRANCO CIMA

– EPALE Ambassador. EPALE – Electronic Platform for Adult Learning in Europe
As part of the Dissemination plan established by the partners of the European consortium, this Multiplier Event will welcome CPIAs in Italy, Municipalities working with adult migrants, Educators, Teachers, NGOs and more: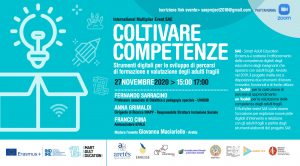 The European project "SAE – Smart Adult Education"  has developed a platform https://www.smartadulteducation.eu/ which contains a collection of digital tools such:
Digital Learning Toolkit

: to support teachers and educators working in the field of training of low-skilled adults 

Assessment Competences Toolkit

: a self-reflection model of key competences aimed at learners
• SAE Guide: that illustrates how to use these tools.